As you know that water plays a very important and we must understand water must be healthy and pure. The requirement of Industrial RO Plant increasing day by day.
The basic requirement is that the water used in process or employee drinking is safe and meeting the required standards. Hence we provide the best quality Industrial RO Water Plants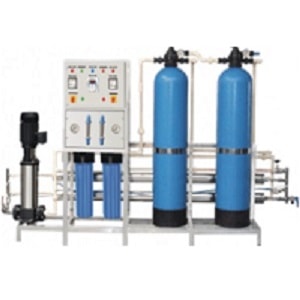 Industrial RO Plant ranges from 250 LPH to 50000 LPH according to the client requirement. We have a specialized team for providing various types of water plants and their automation.
We use a state of the art design and the best raw material and parts to ensure that the product is meeting the best quality requirement and hence the life of the product is also very long.
Types of Industrial RO Plants
There are various types of Industrial RO Plants available for use depending on the requirement of clients. There are two types of RO systems on the basis of water inlet and outlet as below.
1. Single Pass RO
Single Pass RO Systems produce permeate water (product) and reject water (high TDS) simultaneously.
2. Double Pass RO
Double Pass Reverse Osmosis System is when the permeate water is fed into another RO unit to provide further pure water and lesser TDS. A two-stage or double stage RO Plant is when the concentrate or reject stream is fed into another RO system to recover reject water.
The RO Plants can be of two types on the basis of their material of construction.
1. FPR Reverse Osmosis Systems
Normally the Reverse Osmosis plants are designed in FRP membrane housing, carbon and sand filters, piping, and tanks. These are equally effective when used for drinking and process water purpose.
2. SS Reverse Osmosis Systems
There are various types of Industrial RO Plants available for use depending on the requirement of clients. There are two types of RO systems on the basis of water inlet and outlet as below.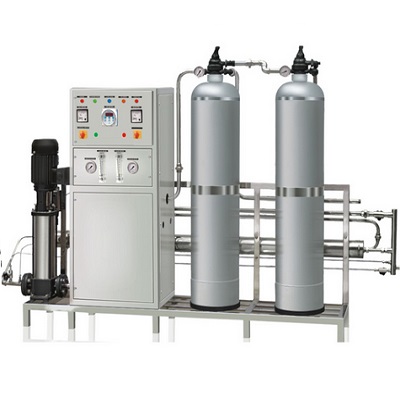 These type of systems required for extra pure water, since SS 304 is highly pure and enable reduce even minute contamination, so provide extra pure water. SS plants are required for mineral water plants where water is packed and sell. SS RO is also a requirement for BIS certification.
In the SS Reverse Osmosis plant, the RO components are made up of SS except for the membrane. Along with the SS RO system the tanks are also made up of SS 304.
Which Industries These RO Plants Can be Used?
Pharma Plants
Electronic Industry
School, Colleges
Hospitals and Laboratories.
Hotel and Restaurants
Water Suppliers and Water Filtration Plants
Power Plants
Boiler Feed Water
Auto Industry
Mining Industry
Chemical Industry
Plating Operations
Cooling Towers
Laboratory
Ion Exchange Pre-treatment
Metal Finishing
EDI Pre-treatment
Rinse Water
Spot Free Product Rinse
1. 1000 LPH RO Plant
1000 LPH RO Plant is the most widely used RO machine. This system consists of 4 RO Membranes of 40×40 size. 1000 LPH RO plant Industrial use requires daily care so that it works without any problem.
2. 500 LPH RO Plant
500 LPH RO Plant mainly used in drinking water purposes in industries, hospitals, Schools, and Hotels. In many industries, a 500 LPH RO plant is also used in process water.
3. 250 LPH RO Plant
250 LPH RO Plants are mainly used in small industries for drinking water purpose of small scale industries for the food processing unit.
4. 100 LPH RO Plant
100 LPH RO Plant is used in restaurants and corporate offices. 100 LPH plants are mainly of 2 types. One is with 3 membranes of 300 GPD and another one is with 21×40 single membrane.
5. 50 LPH RO Plant
The 50 Liter RO Plant is a 4 membrane RO system and is used mainly in small offices, PG, restaurants, and small scale industries. This RO is the best selling product of Soni Enterprises.
6. 25 LPH RO
This 25 LPH RO is two membrane RO systems are used mainly in small offices, PG, restaurants, and small scale businesses. This is a two-membrane RO Plant
1. RO Membrane
RO Membranes are of various types, depending on the RO capacity and designs. RO membrane starts from 50 GPD to 300 GPD in small RO machines and from 40×40 to 80×80 in big plants.
Depending on the use also RO membranes are of various types. Also, there are different TDS level RO membranes available depending on the inlet water TDS.
2. RO Filters
RO Filters are also of various type 10″ RO Filter, 20″ RO Filter, Spun Filter, and Threaded Filters.
Pressure Gauge
Carbon and Sand Filters
RO Vessels
HIgh-Pressure Pumps
Raw Water Pump
Membrane Housing
1. RO Plant Industrial Service
We provide on-site RO service of the various type of RO plant Industrial. You can call us for any type of maintenance of your RO system.
2. RO AMC
We also take AMC and CMC for the RO system, DM plants, and ETP system. Where our team will visit the site on a regular frequency to check the RO plant and doing preventive maintenance.
In AMC breakdown services are also included so you don't have to worry about any kind of problem in your RO Plant. You have to just call us and we will give you the best and quality service.
3. RO Operation
In RO O&M we will depute our manpower at your site for running the RO plant and water treatment system.
4. RO Membrane Cleaning
If your membranes are choked, TDS (Check out the best TDS range) is not reducing or RO reject is more than you can get our membrane cleaning service, where our team will come to the site will a special cleaning system and cleaning chemicals.
The cleaning and polishing of the membrane will be done and will be handed over to you.
Soni Enterprises-Water Expert
We are the leading manufacturer and supplier of RO Plants and RO Spares in India. Soni Enterprises can also provide you the AMC and Operation and Maintenance facility for your existing RO system or water treatment plant. So if you have a requirement of AMC or O&M kindly contact us.
We manufacture the new and latest design of reverse osmosis plants which are the best and long life. Even the space requirement is very low since they are very compact. We take the utmost care for RO manufacturing. So that the plant won't give any problems while using.
We have added the extra features to each plant. It would have different mineral and alkaline features also. Hence the water would be pure and healthy. The range of water RO plants starts from 250 LPH to 50K LPH. Our best selling models are 250 LPH, 5000 LPH, 1000 LPH, 2000 LPH, and 5000 LPH RO Plants.
Our Industrial RO Plant Features
We provide RO Water Plant at best price so that you get Reverse Osmosis plant at best cost as compare to our competition.
We belive in providing best quality product to our customer so that they get complete satisfaction and trust us for future purchage.
We have a wide network and team for proding after sales support for our projects installed at various locations.
We provide RO Water Plant in Delhi, NCR, Gurgaon, Bhiwadi, Neemrana, Bawal, Jhajjar, Rohtak, Noida, Faridabad etc.
5. In-house RO Manufacturing
We have inhouse RO Plant manufacturing, which ensures the best quality parts and best RO Plant price for our customers
At Soni Enterprises we continuously improvie our product quality and features so that our clients get best of RO Water Plants.
Other Water Purification Products
Apart from the Reverse Osmosis system, we also manufacture DM Plants, Softener, Battery Water Plants, UV water plants, etc. We also provide customized RO plants as per the TDS and process requirements.
Green RO (Low Reject or Waste RO)
We at Soni Enterprises are making RO which do less water wastage and even the waste-water can be reused many ways, at our R&D facility we are continuously working to improve the filter rate and innovative ideas for reusing the waste-water.
The requirement for the Green RO is increasing day by since water is a very sacred resource and needs to be utilized very efficiently.